Recently, one of my friends brought up an interesting theory that most Femdoms are either bisexual or lesbian. Since I'm bi and most of my Femdom friends and acquaintances are bi or lesbian, I would have to say this theory might bear some weight. I have known Lesbian Femdoms who dominated both men and women, but they especially despised men and were extremely cruel to the male species. However, their subbies and slaves loved their cruelty. Regardless, there are slaves and subs who fantasize about fucking Femdoms and there is even a humiliation porno XXX niche which features this dominant style of fucking. Personally, I would never fuck a slave or sub. But to each their own.
Why do men of any persuasion fantasize about lesbianas? Is it because men always want what they cannot have sexually? Or is it because they think they possess such fucking prowess that they can turn a lesbian onto dick, so that she will abandon her lesbian ways and become, at least, bisexual? The power of a penis isn't that magical. Most lesbians don't want to have anything to do with dick and even choose phallic sextoys which look toy-like instead of fleshy and cock-like. Lesbians, for the most part, have rejected the penis and have sexually rejected men.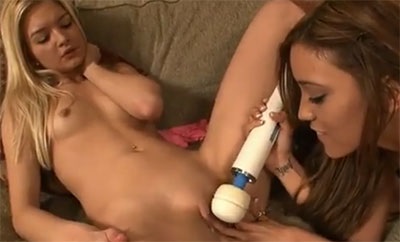 The most popular Lesbian sextoy on the planet – The Hitachi Wand!